In this AI world, let's unleash the power of artificial intelligence in Canva to create animations and exploring various other hidden gems of Canva. This AI won't only help you create the visual part of your presentation deck but it will also help you write all the content and other aspects as well. So, you don't have to start with an empty canvas. The AI features in Canva will also help you improve titles and create unique images that are not available in the Canva library and we will show you all of it here. Canva helped me write all the content and some of the images were generated by the AI so if you guys are interested let's begin further.
How To Create Presentation With Magic Desgin?
Let's go to canva.com and we're going to create a new presentation document.
To do this you can use the button on top of the screen that says "create a design".
From here we are going to select the option that says presentation 16:9.
We're going to use "magic design" to create a presentation in seconds. This is the AI feature that I was talking about. This feature is available only in this format at the moment so if you were to select this format the 4×3 you won't be able to see this feature.
We can access "magic design" in two different ways.
You will see it on the left-hand side. You will see a banner that says "magic design" describe the presentation you want and we'll write and design a draft for you instantly so we can either click in here.
But if at some point this Banner disappears, you can access magic design with the button on the bottom of your screen i.e., Canva assistant button.
This time and from here we'll see magic design, If You Don't See Magic design under recommended actions you can type in here magic design.
If you are testing this feature for the first time, you don't really need to create a presentation but you also just want to try it out. You can click on the button for an example. So, I'm going to click to see what Canva provides.
You will see a dialogue box appear on the screen where you can write the TITLE for your presentation.
Tap on "GENERATE" to see the outcome presentation.
And, here are the outcome for what we were exactly waiting for.
Use Magic Write To Improve Your Titles
We're going to use to improve the titles on our presentations is called Magic right and this one is available for Canva pro users. let's say that we want to improve the text that we see on the cover of our presentation deck.
We're going to select this text box that I want to edit or improve.
We will be going to the Canva systems and from here we'll see this option called edit with magic right. All of these features have the crown and that's why I mentioned that this one is a Canva pro feature.
This time we are going to use "edit with magic right". This window will appear and we have the text from the text box inside the magic right.
We will be adding a prompt to improve this title. so, I am just going to ask magic right to make this title catchier and then press return. Okay…!
This is what Canva "Unlocking the power of reading".
Magic Edit in Canva
The next new feature powered by AI is called Magic edit and this feature will allow me to edit any part of my photo by brushing over a certain object in my photo and then replace that object by another.
Let me show you how it works with image that I have right here in this document.
The first step you will need to select your photo.
Click on that photo and then click on the edit photo button right here.
Now you should see magic edit.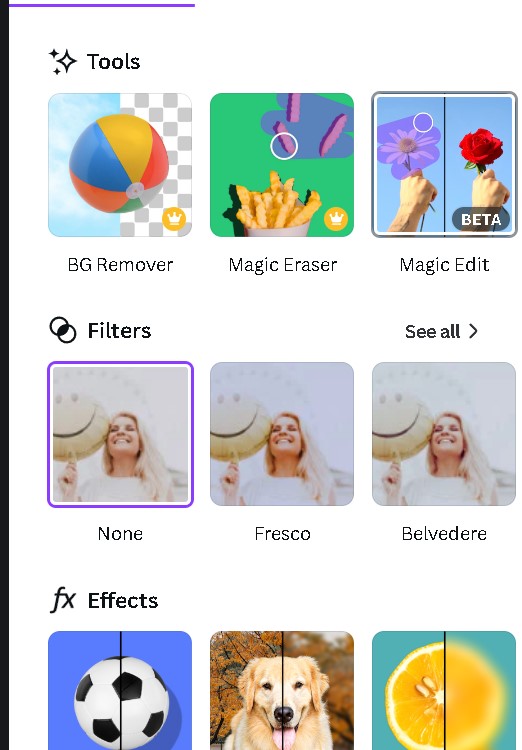 The way magic edit is a free feature so that is a real gift from Canva that could easily have been a pro feature. So, every Canva user will have the possibility to edit up to 100 photos per day using magic edit.
Alright, so we will be going to click on magic edit right here which says one brush over the image. Highlights of the image will be edited.
From the slider that we have on the left of the screen, we can resize our brush.
When you're done highlighting or brushing over the object you want to replace, just click on continue.
Now what do you want to generate in the brushed area, why not ask Canva to do that for us.
Now is where the magic is really going to happen. Canva is going to generate four versions of this emoji. choose between one of these four versions and there you go.
There you go. Here the highlighted area is replaced by a different generated emoji.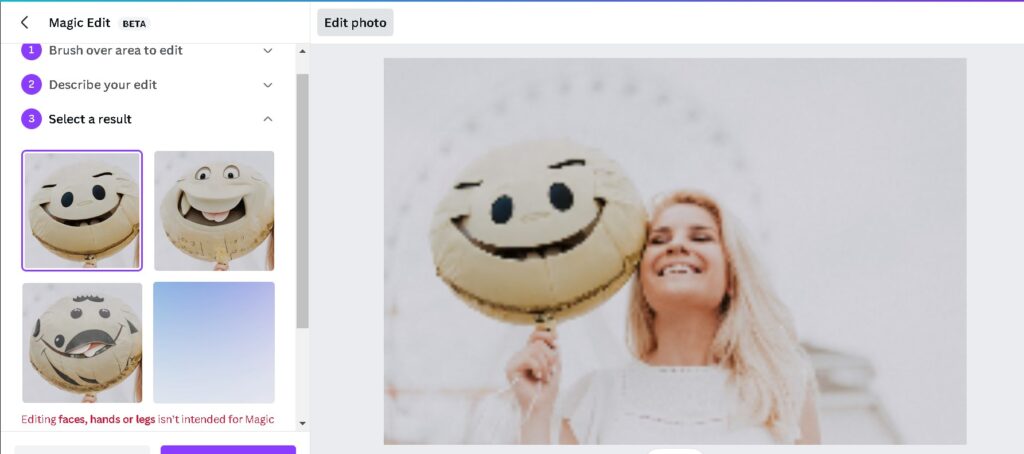 Translate feature in Canva
I want to talk about is called translate and this feature will help you translate anything that is text based in your design into any of the 100 plus languages that Canva can deal with. So, let's try it out.
We have the perfect template right here, that is being prepared for you. This is my template having a text box.
A call to action is to spot "translate". Well, "translate" is going to be tucked under your apps right here.
You'll need to click on apps and then you scroll down a bit and you should see a button below that says translate.
Click on that. The first thing I want to say is that you have two different tabs so make sure you check the settings once you are pretty good to go with the first menu right here the first part of the UI.
I would say the first box is translate from which you can let that to automatically detect especially if you're working in a language like English.
Then you can choose which language you want to translate to. So, I want to switch to French.
Tap on "TRANSLATE".
Let's see, what it'll do for us.
How to do Beat Sync in Canva using AI
Let's continue to explore the magic AI features from Canva and this time we are going to look at a specific feature that is going to be awesome for making videos, this one is called Beat sync.
Beat sync will allow you to skip the manual editing when you're making videos and match your video footage with a soundtrack with the click of a button.
Let me show you how it works. Let's jump into a video project that I pre-arrange for you and try it out.
So, what we are going to do is to use a video project. You see different video clips right here. This project that I have laid out here have bunch of different video clips. I have aligned these with no soundtrack as of now. So, I'm going to start by finding a soundtrack.
You can upload your very own piece of music or you can find a soundtrack in the Canva audio library.
You can go to your apps and then find the audio. Now, this is a pro feature, if you are going to use this you will also have access to all of the pro soundtrack in Canva.
I'm going to be use any of this sound and Canva is going to position it on the timeline right here.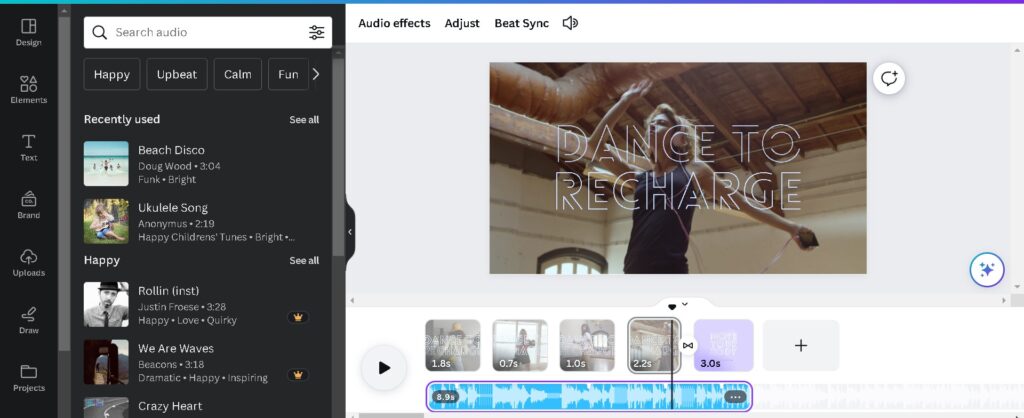 So, with the track selected I'm going to click on beat sync.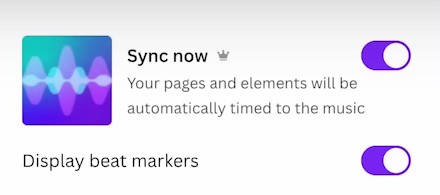 Beat sync is going to do is to realign all of that. So, let's turn this on. Now it's kind of perfectly aligned and let's see the difference. After all this, you'll really be able to observe the effect of beat sync. This really helped me really assist and changing the visuals based on the changes that I can hear in my soundtrack. This is quite hard to explain really what it does with words because it's something you have to listen to and feel really. But here I really noticed that my audio track was synced with the changes of the visuals so this is Beat sync.
Again, it is a pro feature and a kind of magic because it is AI assisted in order for them to recognize the peaks in the music in your soundtrack.
You can also learn these tricks but to be a pro at design, you must have hands on software like Adobe Iluustrator, Photooshop. ESS institute being a top graphic deisgn institute in Delhi can also help you with the practicle graphic design course.
And for canva, you can also check our other tutorials listed below
But do not try to put everything in just one design, it becomes messy, learn how to manage spacces and importance of white space in graphic designing and UI