Do you want an amazing logo for a business idea or new project without having any chaos? Well, you are on the right place to get to know about all even if you have no design skills at all.
Stay tuned!
Not only you can design a logo, but you can also put a lively effect by scratching your own ideas on the screen in the way you ever wanted to do. Canva is a free publishing software where you can make a bunch of different things such as banner, fliers, icons, thumb nails and much more. What is great about Canva is that it is completely free, and you can get a lot of it in its free versions.
Yeah, off course there is a difference in Canva and Canva pro and why not?
After having a flash of it on your screens, you will be going to learn everything there is to know to start designing your own graphics. Whether you would like to use it for YouTube, Instagram, or other social media channels. It does not really matter because Canva offers a great variety of tools to use. After going through this, you will know how easy it is to design with it. Canva has got tons of different photos, elements, and other graphics for you to use. In other words, it is a complete life saver in the content marketing world. Its brilliant for any graphic that you want to design whether it is for social media, your website, blogs, presentations, cards, or anything of that nature. If you are eager to do then,
Canva will sort you out.
Canva tutorial for beginners
Okay, so we will start off with creating an account in Canva and its completely free to begin with. You can sign up either with google, with Facebook or traditionally with an email address.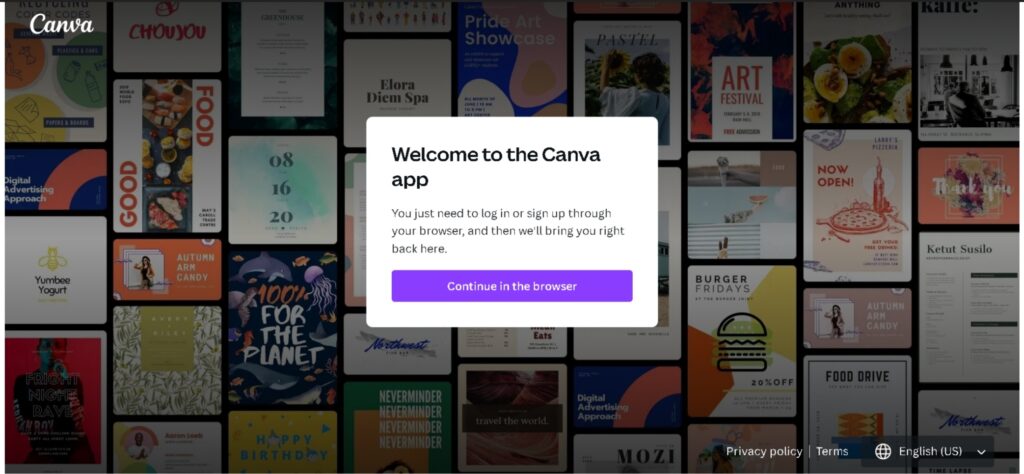 There are quite a few different areas to help you navigate. So, I will explain each one of those so that you know where to go for certain functionalities. We will start off with the top right panel.
You have got your account, so this is where you change your account settings. You can set up your profile photo as well.
Here is one of the most interesting features that is a search bar which is one of the quickest ways to find any template or any dimensions that you need to look for.
For instance: I wanted to quickly design an Instagram post. I will just type Instagram in search bar. It will already give you a few different options. So, this is how you can just quickly browse through what they offer, and it is a great way to find it without ending with scrolling.
In the left corner, you have got the main navigation panel through which you can see what they offer already in Canva. This is what all about the homepage, which will going to help you to design for what you are here.
Canva's templates provide a shortcut to good design. You might be unsure about where to start using Canva while making an infographic for legal company or a fakebook banner for your retail store. I am going to thoroughly share an instance with you all. You can create your own design from scratch by following all those steps whether you are designing a customise resume or an Instagram post. I will use the creation of a poster as an example. Almost all the streps are going to be same. Just have a look over them.
How to use Canva to design a poster?
Posters convey messages in a matter of seconds. For over a century, posters have been promoting events and businesses around the world. But for a poster to work, it must grab the audience's attention and be informative at the same time.
Let us explore how to do both in Canva.
Look for inspiration by browsing hundreds of posters templates on almost any theme.
Search from the home page.
Get your templates filtered by colours, layout, and style.
Templates helps you to visualize design possibilities and with Canva it is really very easy to customize them.
Your Brand
Before starting the design consider your brand and audience. What will grab audience's attention. Good posters grab attention and give just enough information to know how to find out more. With these things in mind, you can define your message.
Let us now personalize the template
Changing Text
First lets double click to change the text.

Style text using the toolbar appearing at side.

You can convey lots of thoughts to the font you choose.
You can use font which you do like more to give it a youthful or modern look. Marking it as a suggestion, use Script font if you are going for a more elegant style.
Text layout is also important. Make sure to create visual hierarchy to bring attention to your focal points. In most cases, big headlines or brighter colours will effectively catch the viewers eyes.
Remember, what exactly you are focusing on.
Changing Imagery
Images are used to enhance the poster's message and visually capture attention.
Let us add an image to our design.
With Canva you do have access to over a million professional, quality stock photos and graphics. Canva's library is carefully curated so they are sure to look good whether in print or in screen.
Click element and use the search bar to narrow your results.
Let us search for a photo
Once you are done getting the perfect image, drag and drop to add that image or replace in your design.
What if, you want to add your own media in Canva?
Just go to the upload section to use your own images in designs.
To move an element, click and drag to adjust its position.
This also offers us with a great feature to crop and flip images.

Change the layer position by moving elements forward or backward.

Simply you do a right click on the element.

Choose to move forward/backward option from the context menu bar.
You can also edit the transparency from the toolbar above.
Adding or Changing colours
Colour can create energy, elicit a mood, attract the eye, and unifies elements. Your colour palette should match your brand personality and poster idea.
To edit a color, do follow the steps below:
Select an element of which you want to change the color.

One or more colour tiles will appear in the toolbar above.

Click the colour tile to select one of your document colours.

To choose a different colour, click the rainbow tile to use the color picker
You can even add a specific hex number here.
Designing posters in Canva from scratch
Sometimes you already have the vision, and you need something completely custom-made. It is a good practice to sketch a rough outline of your poster on paper before you start creating the final design in Canva. Just get your thoughts down quickly, will mean you have a clear vision and direction to follow. We call these thumbnails, and the idea is you can quickly draw and redraw until you have something you are happy with.
Once you have a direction create a new design from the home page.
Search for a poster and choose its dimensions or you can manually adjust the dimension as you want simply by clicking the + button below.
A new blank design will open to size.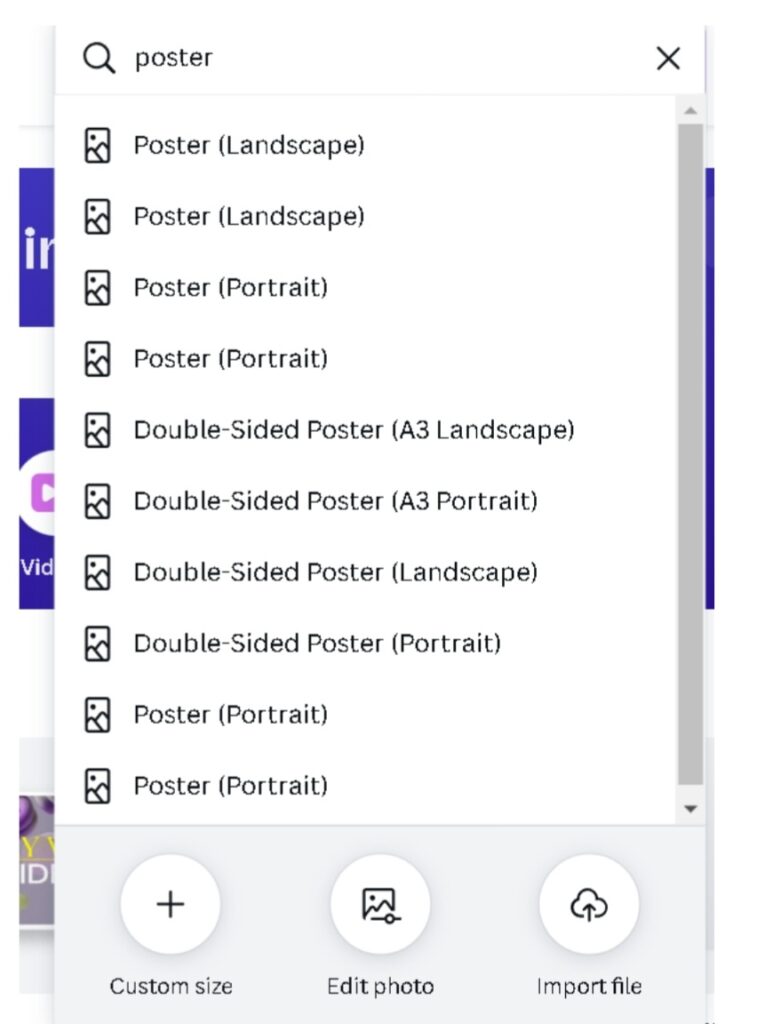 Now it is time to start bringing your vision to life.
Adding texts, images, and colours
The background of your design could be a colour or image. To change the background colour, you should follow these:
Click the page background.
A multicolour tile will appear on the top, there you can select the colour or add a custom colour.
If you want the background to be an image, select the image form the image library or upload your own.
Right click on the image and select the option "replace background."
Instead of placing image as a background make it the centre of attraction by putting it in a grid or frame.
Click elements and find frames by scrolling down.
Add a frame to your design and drag your image in it.
Adjust the frame size or use the crop tool to edit your image's size and position inside the frame.
You can add one or more image to your layout but do not forget. Most time less is more. If your poster is overloaded with too many pictures or elements, it may be confusion for your audience.
Adding text to image
Press the "T" key on your keyboard and a text box will appear, ready to type into.
Your font choice will have a great impact on your design and will help also help in achieving colour balance.
You can use canvas present font combinations too.
Click to add a set to your design.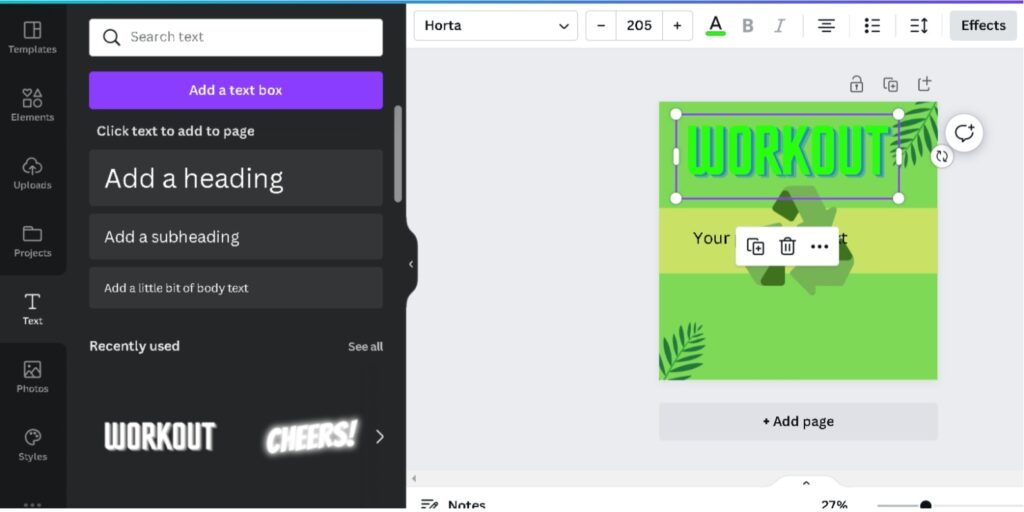 Finally, you can change any of your elements, texts, or colour by clicking on the element and by using the toolbar above. Although, it is immensely easy to use. It saves our tons of time and I found it far simplistic to use. You all will surely going to try something new by overs it.
Practice makes the master, so keep going…!
Canva is one of the starter tools for aspiring graphic designers. You need to have a great hands-on best tools like adobe illustrator or photoshop, learn from the top Adobe trainers in Delhi at in ESS institute, go for one of the best graphics designing course to become a professional graphic designer