Becoming a published author today is just a few clicks away, and the key to unlocking that door lies in the art of formatting your masterpiece for electronic devices, mobile phones and kindle. In this step-by-step tutorial, computer trainer from ESS Institute, one of the best computer institute in Delhi explains how to transform your words into a polished eBook using Microsoft Word. Whether you're a seasoned wordsmith or a budding storyteller, join us as we navigate the formatting prowess, setting the stage for your literary debut on the Amazon platform and the potential to turn your passion into profit. It's time to dust off those creative cobwebs and embark on a journey that transcends the boundaries of your imagination—welcome to the realm of self-publishing success!
What is an ebook?
An ebook, known as "electronic book", is a digital version of a traditional printed book. It is readable on different electronic devices like computers, smartphones, tablets, e-readers etc.
Instead of printing on paper, ebooks are created in digital formats. It contains images, text, and different elements.
Characteristics of an E-Book
Digital Format
They are documents that can be viewed on electronic devices, frequently in formats like EPUB, PDF, AZW, or MOBI.
Accessibility
With features like audio, audio+highlighted text, braille, big font, colors, reading speed, and more, they let students personalize their learning and read in a way that suits them.
Convenience
They can be downloaded or purchased online or both, without taking any physical space. They can be readable from any geographic location across boundaries.
Portable
Since they are digital, you can access a variety of books everywhere you are by carrying a library of them on a single device.
What is Amazon Kindle?
Amazon Kindle is developed by Amazon for reading and accessing digital books, newspapers, and other written content. It is a digitalized platform which gets access with the help of the internet. Amazon Kindle includes Kindle E-Readers, Kindle Apps, Ebooks, Whispersync, Built-in Light, Whispersync, Kindle Unlimited etc.
How to format an ebook in MS Word?
If you are new with ms word, formatting an ebook in the same can be a bit complex. As it may require specific layout and format considerations to ensure compatibility in various ebooks reading devices and platforms. Here are 10 easy steps on how to format an ebook for kindle in ms word.
Step 1: Select the correct version of MS Word
Make sure you are using the right version of Microsoft Word (2010, 2013, 2016, 2019, or Microsoft 365) which are in recent use for the best compatibility feature. Open any of the above mentioned and follow the next steps.
Step 2: Set up page layout and styles accordingly
Ensure your page size and margins are set up properly. Most of the ebooks use a standard page size of 6×9 inches. For the same Go to Page Layout tab, click on "Size", select "More Paper Sizes" to set the dimensions. Also adjust the margins as well accordingly, keeping them consistent throughout your document. Use word's built in styles (Heading 1, Heading 2, etc.) for consistent formatting.
Step 3: Remove Headers/Footers and Page Numbers
Most of the ebooks do not include headers/footers and page numbers. Because including page numbers navigates specific thing to specific page which ebooks don't support. Go to insert tab and select Page
Number or Header/Footer. Choose "Remove Page Numbers" or "Remove Headers & Footers".
Step 4: Insert and Draft a Table of Contents
Now create a table of contents using Word's built-in-table of contents feature. Go to the "References" tab at the top of the window. Click on "Table of Contents" dropdown button . Select any one of the styles according to your choice or  can choose "Custom Table of Contents" to customize the formatting. Also set the links to navigate to the corresponding sections of your table of contents.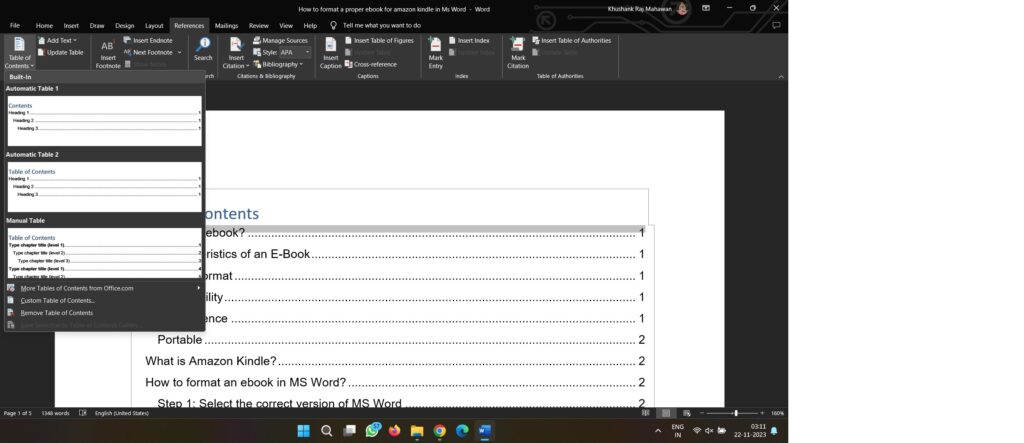 Step 5: Place Body of the contents
The body of the material you want the e-book to have can be input here. Body provides an overview of the book's usual core ideas, including its chapters, sections, and text that provides information.
Step 6: Insert Hyperlinks
For inserting a hyperlink to navigate to websites and other sections of a book, highlight the text that you want to turn into a hyperlink, right click on it, and from the context menu, select "Hyperlink". Dialog box will appear. In the same select which type of link you want. Click on Ok.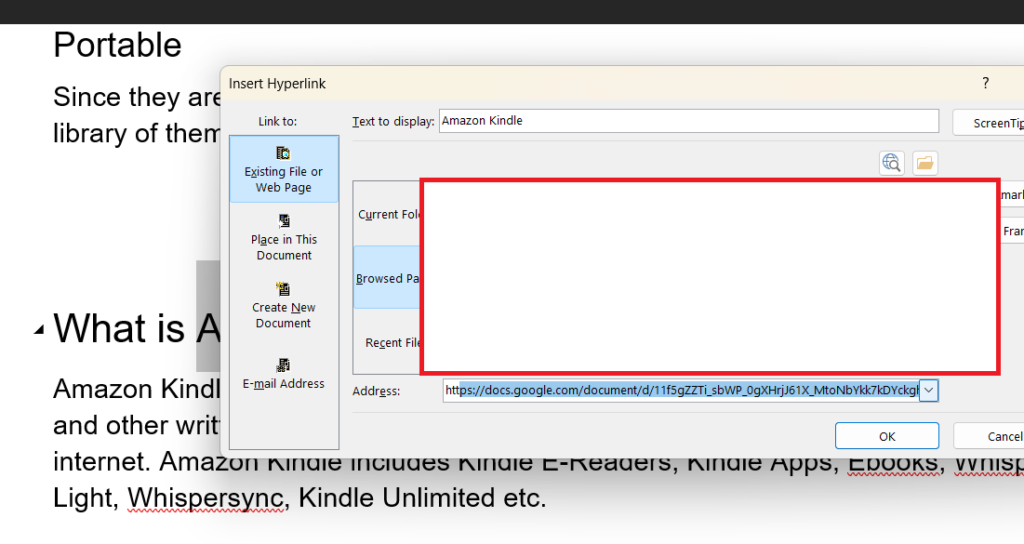 Step 7: Remove extra spaces and page breaks
Make sure to remove extra spaces and page breaks in your ebook. As it is essential to ensure a clean and consistent layout. For the same, Click on "Home" tab in the Ribbon at the top of the window. In the "Editing" group, click on the "Replace" button . Now the "Find and Replace" dialog box will appear. In the "Find What" field, type a space followed by another space:" ".In the "Replace with" field, type a single space:" ".Now click on "Replace All" button.
Step 8: Save in pdf format
Now to create an ebook file that can be easily converted into various formats, save your word document as a PDF for the best compatibility.Go to "File" > "Save As" > choose PDF as the format. This will provide consistency to your formatting and layout.
Step 9: Convert to ebook format
To have the distribution feature of your ebook, you will typically need to convert the PDF to ebook formats like EPUB, MOBI. You can convert it online with the help of different online converter platforms.
Step 10: Test it Accessibility
Now is the final time to test your ebook on multiple devices. To check its accessibility, compatibility and user friendly features. If you feel some errors or disreputability, immediately work on the same and correct it before final uploading on amazon.
What are the benefits of Using MS Word for Creating an Ebook?
There are many benefits of using Ms Word for Creating an Ebook for those who are very much familiar with the software. Benefits includes:
Easy to Customize
Ms Word has different customizing features and it offers extensive formatting capabilities, allowing you to create the visually appealing ebooks with customized styles, fonts, headings and page layouts.
Can Insert different Images and Graphics
Ms word allows you to insert different images and graphics to enhance your visibility and to make it in an attractive way.It provides tools for resizing, positioning, formatting images etc.
WYSIWYG Editing
Ms Word provides "What You See Is What You Get" interface, which allows you to see your ebook in real time with its immediate results. This interface allows users to create and edit your ebook's layout and appearance.
Making an Ebook on Ms Word for Amazon Kindle provides authors and different writers the freedom, accuracy, and customizability to offer their readers a convenient and versatile way to access and enjoy written content in the digital format, by sitting at any corner of geographical location.
You can also do it by yourself. But if you are still thinking how to start, ESS Institute is one of the leading Computer Training Institute in Delhi where you can learn Microsoft office with computer operations too in less than 90 days only. Apply Now