One of the most crucial tasks when discussing digital marketing or search engine optimization is Keyword Research. Is doing Keyword Research really necessary? How do you choose the right Keywords for your Company? Does there exist a plan to achieve this? The entire subject is covered in this article.
What is a Keyword?
A Keyword in SEO (Search Engine Optimisation) is a particular word or phrase that symbolizes the central idea of a webpage or piece of content. When users are seeking for knowledge, merchandise, or services, they frequently use such words when using Search Engines.
Keywords can be general or particular, short or long-tail. Broad Keywords are more general which leads to more searches, but they can be quite competitive. Long-tail or Specific Keywords are more narrowly targeted, have smaller search numbers, but frequently have greater conversion rates. Finding the right mix between popular keywords and those more relevant to your content or specialty is crucial.
Along with being used in Website Content, Keywords can also be used in meta tags, page titles, headers, URLs, and image alt tags to provide search engines additional information about the content of the webpage.
What is Keyword Research?
Targeting the appropriate demographic is crucial for any business looking to attract potential clients. In order to create content that focuses on such terms, one needs to be aware of the questions that clients ask about a specific field or subject. The process of finding the common phrases and inquiries that your target market uses in relation to your organization is encompassed by Keyword Research.
How to do Keyword Research : A Step-by-Step Guide
Understanding the terms and phrases your target audience uses to look for information, goods, or services is crucial to Search Engine Optimisation (SEO). Here is a detailed tutorial on how to carry out Keyword Research for a client by SEO expert from the best digital marketing institute in Dwarka:
Understand the Client's Business
To start, thoroughly comprehend the company, sector, target market, goods or services, and marketing objectives of your customer. This information will assist you in identifying suitable keywords.
List the Initial Keywords
Create a list of keywords you believe are pertinent to the client's industry before anything else. Think of broad industry-related keywords, targeted product or service keywords, location-based keywords, and long-tail (more specific phrase) keywords. At this point, don't worry about competition or search volume.
Make Use of Keyword Research Tools
To add to the initial list and gain information on search traffic, competitiveness, and similar terms, using Keyword Research Tools. Google Keyword Planner, SEMrush, Moz Keyword Explorer, Ahrefs, and Ubersuggest are a few of the more well-known programmes. These resources offer insightful data on keyword performance. Google can also be used to your advantage to gain insight into current content trends, such as by skimming through the websites of local rivals and examining recent and similar search queries.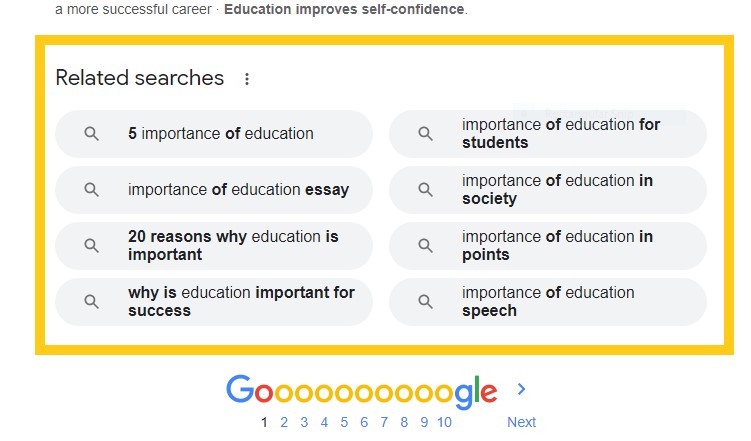 Analyze the Search Intent
Take a look at search intent rather than just search volume. Recognise the intent behind and outcomes of the searchers' expectations. Are they searching for goods, services, or information? You can more effectively match your content with the aims of the searcher by analyzing search intent.
Assess Keyword Relevance
Assess each keyword's usefulness in relation to the market and demographics of your client. Take into account if the term correctly captures what the customer has to offer and whether it supports their objectives. Remove any too general or irrelevant terms.
Analyze Keyword Difficulty
Consider the level of competition for each term to get a sense of how challenging it will be to rank highly. The difficulty of keywords can be determined by factors such as the authority of rival websites, backlink profiles, and content quality. To strike a balance, concentrate on a range of keywords with varying degrees of difficulty.
Prioritize Keywords
Sort keywords according to relevancy, competitiveness, search traffic, and the objectives of the customer. To direct the content strategy, choose major keywords (the main emphasis) and secondary keywords (supporting themes).
Long-tail keywords frequently have lesser competition and are more precise. To attract highly focused visitors and boost conversion rates, incorporate long-tail keywords into your content strategy.
Monitor and Refine
The process of keyword research is never-ending. Keep an eye on search trends, keyword performance, and the client's shifting industry. To respond to emerging opportunities to strengthen your SEO approach, progressively refine your keyword list.
Create an Optimized Content
Create optimized content that includes your goal keywords and is of the highest caliber. Make sure the information is valuable to the intended audience and satisfies their search criteria. Maintain a natural flow while optimizing your meta tags, headers, URL slugs, and on-page text.
Keep in mind that Keyword Research is an iterative process, and it's crucial to remain current with market trends, adjustments to search engine algorithms, and changes in user behavior. The exposure of your website can be increased and the correct audience can be drawn in by consistently optimizing your content based on Keyword Research.
Few Popular Keyword Research Tools
Tools for Keyword Research are crucial for Digital Marketing and Search Engine Optimisation (SEO) tactics. They assist in spotting pertinent terms and phrases that individuals use to look up information online. Here are a few well-liked tools for keyword research:
Google Keyword Planner
Google Ads is giving away this tool for free. It provides keyword recommendations, information on search traffic, and competition levels. Although it is primarily made for advertising, it can also be helpful for general keyword research.
SEMrush
The complete SEO toolbox SEMrush comes with a potent keyword research tool. It offers statistics on keyword competition, search traffic, keyword difficulty, and keyword suggestions. Along with these tools, SEMrush also provides site audits, competition analysis, and backlink analysis.
Ahrefs
Ahrefs is another all-encompassing SEO tool with a strong keyword research capability. It offers data on click-through rate (CTR), search volume, keyword difficulty, and keyword suggestions. Ahrefs is renowned for having powerful backlink analyzing tools as well.
Moz Keyword Explorer
The Keyword Explorer tool from renowned SEO software developer Moz provides insightful information. It offers statistics on organic CTR, search traffic, difficulty ratings, and keyword ideas. In addition, Moz provides various SEO tools including rank tracking, site audits, and link analysis.
Ubersuggest
Neil Patel created the freemium product called Ubersuggest. It provides important analytics such as keyword ideas, search traffic, difficulty ratings, and more. Ubersuggest is renowned for both its affordable pricing and user-friendly UI.
Keyword Tool.io
Using Google Autocomplete as a foundation, this programme creates keyword suggestions. It offers term recommendations for several platforms, including Google, YouTube, Bing, and Amazon. Among other useful information, KeywordTool.io provides search volume and competition information.
Long Tail Pro
Finding long-tail keywords, which are more specialized and less competitive, is the area of expertise of Long Tail Pro. In addition, it provides SERP analysis, search volume, term competitiveness scores, and keyword suggestions. The owners and writers of specialty websites and content frequently use Long Tail Pro.
SpyFu
SpyFu focuses on keyword research and competitive analysis. It offers information on the organic and paid search tactics used by your rivals, including the terms they rank for and place bids on. SpyFu provides information on search traffic, rankings, and other helpful indicators.
Serpstat
Serpstat is a complete SEO platform including a keyword research tool. It provides statistics on keyword competitiveness, search traffic, keyword difficulty, and suggested keywords. Along with these functions, Serpstat offers site audits, backlink analysis, and rank tracking.
Keyword Finder
Keyword Finder provides keyword recommendations, information on search popularity, and competitive assessment. It offers keyword difficulty scores, SERP analysis, and ideas for similar keywords. Additionally, Keyword Finder provides tools like backlink analysis and rank tracking.
These are only a handful of the keyword research tools that are offered on the market. It's critical to select the instrument that best fits your goals and budget as each one has distinctive features and advantages.
The Wrap Up
All things considered, Keywords are an integral part of SEO and significantly contribute to the organic traffic that websites receive by increasing their exposure in search engine results for pertinent searches.Finding the proper keywords enables you to optimize the content of your website, enhance organic search ranks, and draw in niche audiences. You can discover a lot about search traffic, competitiveness, and user intent by employing the correct Keyword Research Tools.
You can also learn complete SEO offline at our digital marketing institute in Delhi
Hopefully, this article has been quite helpful in helping you about keyword research and how to conduct it efficiently.