A set of cloud-based productivity tools created by Google is called Google Workspace, formerly known as G Suite. It is the brand-new Google productivity toolbox. Calendar, Gmail, Drive, Docs, Slides, Meet, Keep, Forms, Sites, Currents, and Sheets—all of our favorite G Suite products—are now more conveniently gathered under one eye-catching, vibrant roof.
It has various benefits that increase productivity and success while lowering expenses and enhancing communication and teamwork for both individuals and companies. They are:
Collaboration: Users can collaborate on documents in real-time using Google Workspace products like Google Docs, Sheets, and Slides, allowing numerous users to work on the same project at once.
Accessibility: Users can access their papers, files, and other data using Google Workspace from any location and on any internet-connected device as it is cloud-based.
Security: To protect the security and privacy of user data, Google Workspace provides strong security features including two-factor authentication, data encryption, and data loss prevention.
Integration: It's simple to handle all types of work from one spot, thanks to Google Workspace's seamless interaction with other Google products like Gmail, Google Drive, and Google Calendar.
Productivity: Tools from Google Workspace provide many features like templates, add-ons, and shortcuts that aid efficiency.
Cost-Effective: Businesses can save money using Google Workspace instead of spending money on pricey gear, software, and IT infrastructure.
Scalability: It is appropriate for both small and large enterprises since it can scale to meet the demands of the business.
Let's go through some G-Suite Products:
Google Sheets
Google Sheets is a free web-based spreadsheet program that enables you to generate, modify, and collaborate on spreadsheets in real-time with those around you. Here is a detailed instruction for using Google Sheets:
How to use google sheets?
How to Create a Fresh Spreadsheet?
To start a fresh, blank spreadsheet, select the "Blank" option.
In addition, the two options available to you are importing a spreadsheet from another programme or selecting one of the pre-made templates.
How to Format a Spreadsheet?
By modifying the font's style and size, adding borders, and altering the color of the cells, you can personalize the layout of your spreadsheet.
Choose the cells you wish to format, and then click the "Format" option in the top menu to access the formatting tools.
How to Enter Data?
You only need to click a cell and begin typing to add data to it.
You can also copy and paste data from other sources in your spreadsheet or use the "Insert" tab in the top menu to add rows, columns, and other elements to the spreadsheet.
How to use Formulas and Functions?
You can perform calculations using formulas and functions in Google Sheets.
When entering a formula, begin by placing an equal sign (=) in the cell where you want the outcome to display. Next, follow that with the formula or function you wish to execute.
How to Sort and Filter Data?
By choosing the desired cells and selecting the "Data" option from the top menu, you can sort your data either numerically or alphabetically.
To display just particular data in your spreadsheet, you can also utilize filters. Choose the cells you wish to filter, and then select the "Filter" option from the top menu.
How to Share or Collaborate with Others?
You can start sharing your spreadsheet with your friends by clicking the "Share" button in the upper right corner.
You can decide whether to grant others access to the spreadsheet for editing or only for viewing.
By selecting "Add people" from the "Share" menu, you can also invite others to work together in real time on the spreadsheet.
Google Docs
Google Docs is a cloud-based word-processing programme that enables users to make, modify, and share documents online for free.
How to acess Google Docs?
Navigate to https://docs.google.com and login in with your Google account credentials once you've created one. This will open the Google Documents homepage.
How to Create a Fresh Document?
At the top left corner of the screen, select "Blank" or "New document" to start a new document. A new document will be opened in the main editing area.
How to Edit a Document?
On Google Documents, all you have to do to modify a document is click anywhere on the page and start typing. Using the toolbar at the top of the screen, you can format your text. The font, font size, color, alignment, and other formatting parameters may all be changed with this toolbar.
You can format your content by using keyboard shortcuts as well. For instance, to bold text, select the text and press Ctrl+B on a computer running Windows or Cmd+B on a Mac.
How to Insert Images and Links?
Choose "Image" from the "Insert" menu to add an image to your document. Next, you can select a file from Google Drive or upload one from your PC.
To add a link, highlight the text you wish to use as a link, choose "Link" from the "Insert" menu, and then press the "Enter" key. The URL that you want to link to can then be entered.
How to Share or Collaborate with Others?
Simply select "Share" from the menu in the upper right-hand corner of the display to send a document to others. After that, you can insert the email addresses of the recipients you wish to send the file.
Each individual you share the document with can have their permissions defined. You can, for instance, let certain individuals update the document while limiting access for others to viewing only.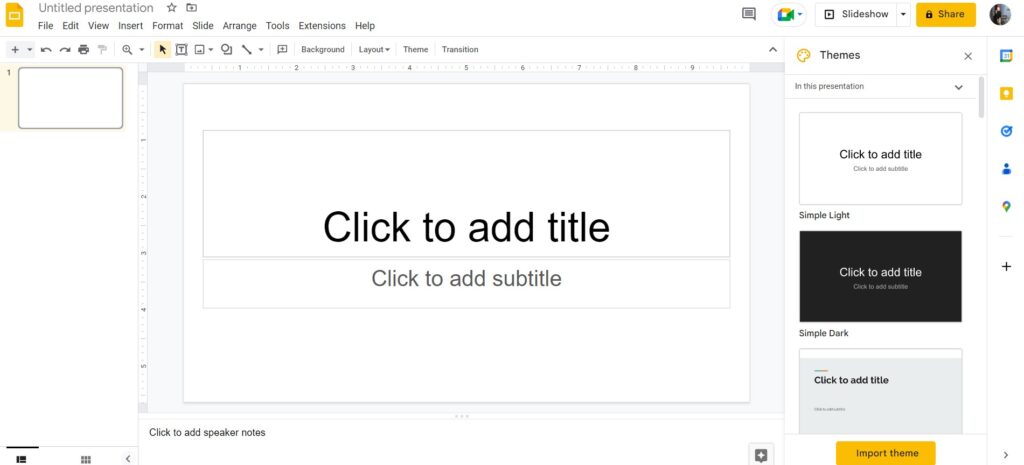 Google Slides
Google Slides is an online presentation programme that allows you to create and style presentations as well as collaborate with others. A guide on using Google Slides is given below.
How to use google slides?
Go to https://slides.google.com in your web browser.
How to Create a New Presentation?
Choose "File" > "New" > "Google Slides" or click the "New Presentation" button.
There are several pre-designed themes available in Google Slides. Choose the most appropriate one for your presentation, or create your slide.
How to Add Content to a Presentation?
Slides can include text, pictures, videos, charts, and other elements. To add material, select the sort of content you wish to add from the "Insert" option.
How to Customize Slides?
You can alter your slides' background color, font style, font size, and other elements. To access these choices, click on the "Slide" menu.
Slide transitions can be added to the presentation to make it more interesting. To do this, choose "Change transition" from the "Slide" menu by clicking on it.
Moreover, you can apply animations to certain slide elements. Click on the item, and then select the "Animations" tab to do this.
How to Share or Collaborate with Others?
You can interact in real-time and share your presentation with others. Click the "Share" button in the upper right corner and input the email addresses of the individuals you wish to collaborate with.
How to Present a Slideshow?
Choose the "Present" icon in the top right corner to start presenting your slideshow. Your presentation will then start up in full-screen mode.
How to Save and Export a Presentation?
After you're done, you can export your presentation as a PDF, PowerPoint, or another file format or save it to your Google Drive. Choose "Download" or "Save" from the "File" menu for the same.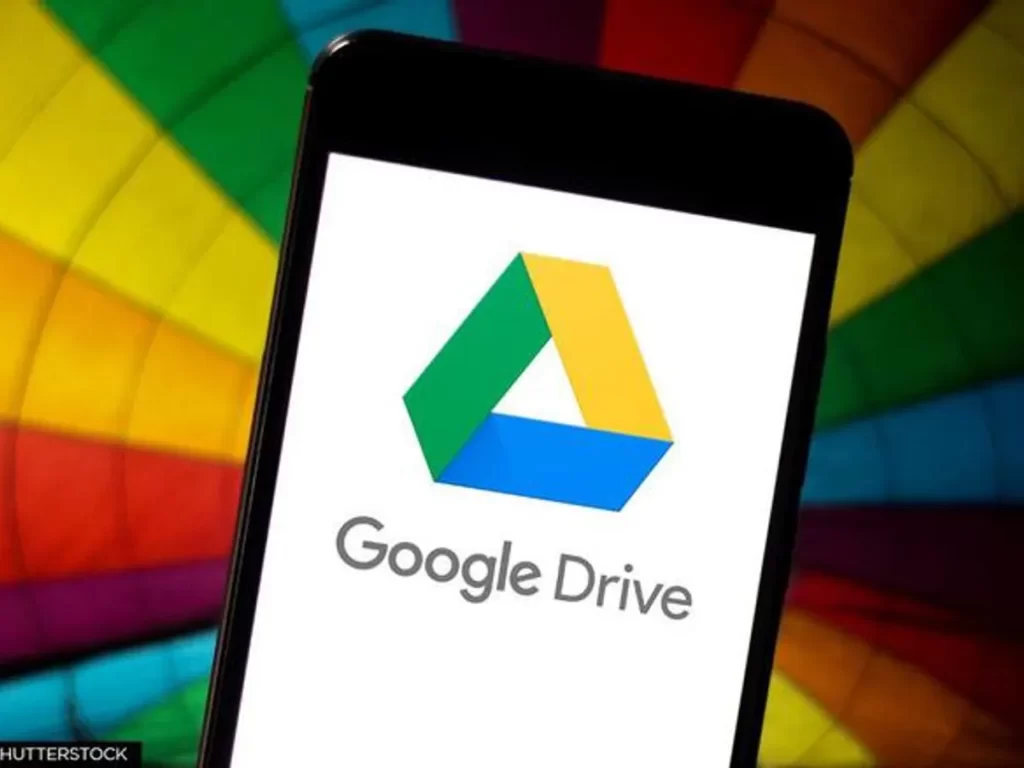 Google Drive
Google offers Google Drive as a cloud storage and teamwork tool. Users can access their files from any location as long as they have internet access by storing them online. The following is a detailed tutorial on using Google Drive.
How to Access Google Drive?
You must have a Google account to use Google Drive. Skip this step if you already have one.
Google Drive can be accessed either by browsing https://www.google.com/drive/or by clicking the Google Drive icon in the upper right-hand corner of any Google site.
How to Use the Interface?
Several tabs, including My Drive, Shared with Me, Recent, and Starred, are included on Google Drive's main screen. Your files and folders can be kept on My Drive.
How to Upload Files?
Click the "New" button on the interface's left side and choose the file or folder you wish to upload. Google Drive will then receive the files. Moreover, it is possible to drag & drop files right into the Google Drive interface.
How to do File Organization?
After transferring files to Google Drive, you can rename or organize them into folders by right-clicking the file and choosing "Rename" or "Transfer to."
How to Share or Collaborate with Others?
To share a file or folder with someone else, pick it and then click the "Share" button. Next, after entering the recipient's email address, you can decide whether to allow them to read or edit the file.
Google Drive enables real-time collaboration on documents, spreadsheets, and presentations. Click the file to open it using the Google app of your choice, such as Google Docs, Sheets, or Slides, if you wish to work together on a document.
How to Synchronize File?
File synchronization is possible through Google Drive's desktop programme, which enables you to transfer files from your computer to Google Drive. Click the "Download" button on the Google Drive main screen to download the desktop version of the service.
The Wrap Up
In conclusion, Google Workspace offers a potent set of productivity tools that may assist people and businesses in streamlining their business operations and enhancing teamwork.
The ability to interact with team members and access files from any location and device, the simplicity of sharing and editing documents in real-time, and robust communication capabilities like video conferencing and chat are just a few of Google Workspace's primary strengths.
In this article, we went over the fundamentals of using Google Workspace, such as how to create an account, explore the different applications, and change your preferences. After following the instructions provided in this lesson, you should have a basic knowledge of how to utilize Google Workspace to organize your work and collaborate with others more successfully. Google Workspace provides the tools you need to be productive and organized, whether you're a freelancer, a small business owner, or a member of a larger team.
Google workspace tutorial is a part of our Basic Computer course online and offline program for everyone.